Posted by Adrienne on January 10, 2009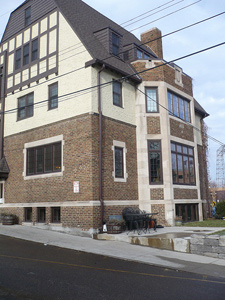 This is the first in a series of posts exploring coffee shops near the University of Minnesota, since this is where I spend the majority of my time. I'll start with the East Bank, but also check out the West bank and the St. Paul campus as well.
Students at the U have a LOT of coffee shop options on campus; many of them are independent, many are not. My favorite on-campus coffee place is the French press on my studio desk, but when I want to get away from a project I head to Bordertown Coffee. It occupies the first floor of a beautiful old brick and timbered building hidden behind Frat house row on University. To read the full and fascinating story of how the owners acquired the building, read their website.
I love the warm cozy feel of the main sitting room, complete with armchairs and stone fireplace. This room is frequently busy during the lunch hour but most times you can find a small table. There is an additional smaller sitting room on the main floor which can be reserved for free as a conference/study room. Apparently the upper floors contain some sort of student housing, perhaps another fraternity or co-op.
The website mentions the cafe's owner's Christian beliefs, but I was pleased to note that the cafe did not advertise this fact; I've witnessed several blatantly religious coffee shops that were a bit of a turn-off.
The Fair Trade coffee and espresso are quality, and the homemade bakery items are usually delicious (I loved the dark chocolate nut bars but was not crazy about the vegan blueberry muffins). For lunch options, I wasn't impressed with either the quiche or the basalmic chicken wrap, but maybe I'll have to give some of the other breakfast items a chance. The hummus and pita is a nice snack option, but I'd ask to have the pita toasted – cold pita not so appetizing.
So if you find yourself on campus in need of a cozy coffee shop, sneak behind the frat houses and see if you can locate this little treasure. Bonus points if you can figure out a way to get there via the underground campus tunnels!