Posted by Adrienne on December 29, 2016

One Friday evening, we boarded a half-filled train in Manhattan, where we live, and headed toward Brooklyn for dinner. As the car began to move, we could not help but notice a young white man nearby wearing ear buds and using one of the subway poles as the vehicle of a highly enthusiastic personal dance session. Now, dancing on the subway is not unusual behavior these days, but those who do so are almost always looking for tips ("showtime!").
But this man, dressed in a neat suit (finance, likely), was clearly not dancing for anyone but himself. He spun around the pole one way, then the other, crouched to the ground, waved his hands around, wiggled his butt, and lip-synced the words to the silent beat. Those of us around him tried our best not to stare (simple subway etiquette) but we exchanged sly glances of amusement as we caught each others' eyes. I marveled at his complete lack of self-consciousness.
In an unfortunate timing of events, at one point the dancer happened to let go of the pole at the exact moment the train lurched, throwing him into the lap of a young black man sitting five or six feet behind him. We all held our breath, expecting an angry outburst at the dancer's carelessness. Instead, the the target of his trajectory doubled over and let out a loud, long belly laugh while the the rest of us joined in with relieved giggles. Aside from a quick "sorry", the dancing man did not miss a beat; ignoring us all, he leapt right back to his pole and continued in his shimmying and shaking for the rest of the ride.
Posted by Adrienne on August 31, 2016

There's a man who stands outside the entrance to my building in downtown Manhattan almost every day with the same hawker's chant, in a tone like an auctioneer: "SHOErepairSHOErepairTENPERCENTOFFSHOEREPAIR". I wonder: How bored must this guy be saying the same thing over and over and over again? Does he do this all day long? Does he say other things for other businesses or just these same five words? Is he so used to saying it that it doesn't even register in his brain? Does he occasionally just break out into the chant at inappropriate times because it's second nature, in the same way you get into your car on a Saturday afternoon and suddenly find that you've driven to the office when you meant to go to the store?
I realized one morning that there was something about his chant that felt so familiar. It took me a few moments to work it out but suddenly it occurred to me that it is performed in the exact same intonation and cadence as my father used to do when he read outloud from one of my favorite childhood books about a man who hawks hats that are perched in a stack on top of his head: "CAPSforsaleCAPSforsaleFIFTYCENTSACAP". The only difference is that my father does not have a New York accent, which makes the shoe repair guy's chant sound like: "SHOErepaiahSHOErepaiahTENPERCENTOFFSHOEREPAIAH".
And I wonder if that guy made up the cadence of his chant, or maybe if his own dad read him that book when he was a kid, or if that is, since time eternal, just the chant one uses to hawks one's wares, be it caps or shoe repaiah.
Posted by Adrienne on August 15, 2013

My neighborhood is full of little churches. Walking straight east from my house to the Mississippi River, which is not quite a mile, I pass four little neighborhood churches. This is the one I can see from my house: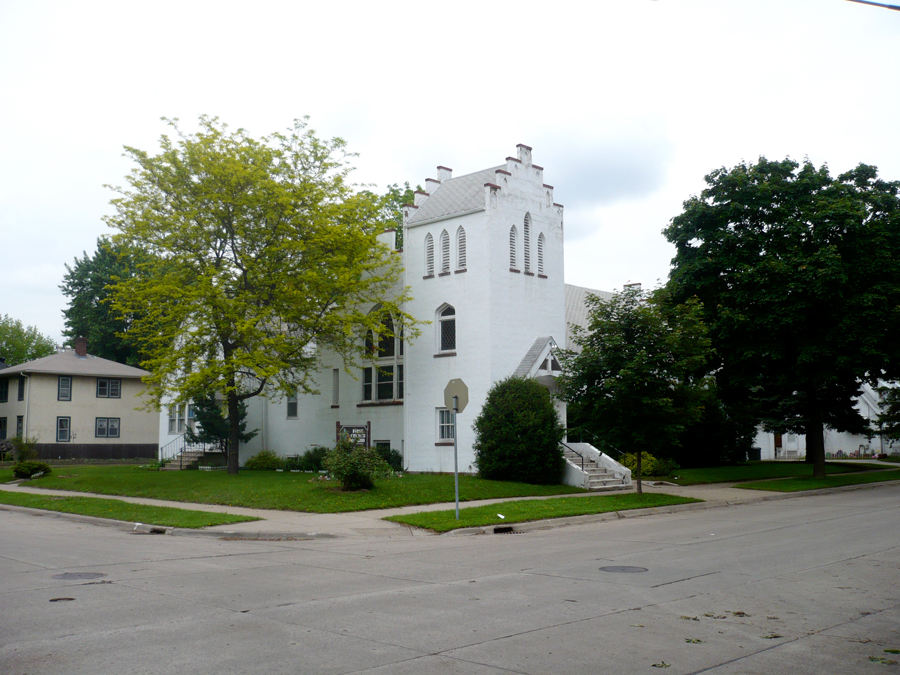 And here it is in 1920:
Ninety-three years ago, the church was being constructed. My house was built in the same year, so had the photographer turned a bit, he or she could have taken a photo of my house too. No such luck. The church was built by a Danish Lutheran congregation whose building in the nearby Seward neighborhood had burned down. That group has since moved on but the building serves the same purpose as it has since 1920 – as a small neighborhood church.
It isn't the changes to the building that I find intriguing, but seeing a landscape with which I am so familiar before it was completely encapsulated by concrete and tamed with turf grass. It reminds me that my neighborhood was once a "wild" place with soil and trees and animals. It's a similar feeling I get when I admire one of the many groves of stately oaks that are scattered throughout the neighborhood. While walking down a street, I sometimes happen to peek down an alley and am occasionally startled out of my thoughts by the sight of a half dozen ancient oaks stretching their branches like buttresses over homely garages and trash cans. I imagine the oaks were there first, providing shelter for deer and fox for centuries before the day that roads and streetcars and houses began to take their place. This is what this rephotograph reminds me: that while concrete may cover the landscape today and while we may have removed most traces of the former woodland or prairie, the seeds and soil are still under there somewhere, sleeping. Like a secret landscape beneath my feet.
Posted by Adrienne on May 16, 2013

So my secret passion is learning how urban landscapes have changed over time. I'm not sure when it started, but I got to immerse myself in it in my Masters of Landscape Architecture capstone project in 2010. I had fallen in love with a riverfront site in downtown Minneapolis that had changed dramatically since it was first developed for industrial water power in the 1840s. Part of my analysis of the site involved finding historic photographs of the site and then re-taking a photograph from the same spot (or as close as I could get to it).

I love the results and it really helped me get a better understanding of how the site had changed.
For the past month or so, I've been researching and writing about the history of a former industrial area just northeast of the University of Minnesota's Minneapolis campus – it's part of a much larger project that the Design Center has been working on for years. More about that later. As I've been researching historic photographs, I came across this really fascinating photograph of a different part of campus which shows the Mississippi River and an area historically known as Bohemian Flats. 
If you aren't familiar with the history of Bohemian Flats, what you are seeing in the bottom righthand corner is a neighborhood that was once home to a large population of immigrants, who began settling along the river flats in the 1860s. The land here was cheap and the residents found work in the nearby breweries and mills. When the river would rise in the spring, the entire neighborhood would flood – residents took it in stride and accessed their homes by boat. The large building on the right is the Heinrich Brewery. Another brewery operated on the north side of Bohemian Flats, behind the photographer in this image. For more historic photographs, including some really amazing ones showing kids rowing boats through the flooded streets, search for "Bohemian Flats" on the Minnesota Historical Society's online collection.
I've gotten to do some historical research on this area before, for earlier phases in this project and so I've seen many images of Bohemian Flats, but this particular one really struck me because it's taken from a spot I frequently pass, so it's quite easy to grasp the extreme changes that have taken place. But I wanted to document it. So I went to the Washington Avenue Bridge and re-photographed it.

What was once a dense residential neighborhood is now park land. University buildings currently stand along both river bluffs, including near the former brewery. Far in the distance, Interstate 94 crosses the Mississippi River.
What happened between the two photographs? The two breweries joined forces in 1891 and left the area to build the Grain Belt Brewery in northeast Minneapolis. Around 1900, the city of Minneapolis chose Bohemian Flats as the site for a river terminal. Eviction notices were issued to some residents starting in 1915 and by the 1930s most of the houses were gone. The flats housed a barge terminal and coal storage yard until the 1940s, until the upper locks and dams and the Upper Harbor Terminal were built upstream in the 1960s. In the 1980s, all of the infrastructure associated with the terminal was removed and the West River Parkway was extended along the Flats.
I love the stories these photographs tell. Stories of big ideas like how our relationship with the river has evolved in the past 200 years. I love that seemingly boring everyday landscapes like a riverside park hide secret pasts of immigrant neighborhoods and flooded streets. Re-photographing allows me to understand these stories better, to fix them in my mind, and to share them with others. I hope to do more.
Posted by Adrienne on January 21, 2013

I've been spending the last few weeks designing a winter landscape for a neighborhood park in Minneapolis. Now I'm working on transforming that design into an eye-catching rendering. The vast majority of landscape renderings depict the landscape in the warmer months – most often summer, but sometimes spring and fall as well. While some designers will create perspectives of the landscape in winter, I was hard-pressed to find a plan (aerial) view. To get a feel for how to depict a winter landscape from above, I've been spending some time looking at aerial photographs. I'm especially interested in figuring out how to illustrate the shadows of objects on the snowy ground – which are not only extremely elongated but also seem to glow electric blue at certain times of the day. I found that some of the best images came from photographers doing Kite Aerial Photography (or KAP, as it's known), of which there are entire groups on Flickr. Came across these beauties in the process…
Posted by Adrienne on December 17, 2012

St. Paul, Minnesota, has hosted a Winter Carnival on and off for the past 126 years. In my quest to learn more about the history of this particular Carnival, I went in search of old newspapers for quotes or clippings about the earliest Carnivals, set in the 1880s. That's when I discovered –
[BUM BUM BUM]
– the Library of Congress.
So the Library of Congress has some really amazing collections – especially historic photographs, prints, maps, and newspapers. Their collections database is really easy to search, find, determine copyright, and download. American Memory has a whole slew of open source images that are copyright-free. Chronicling America, a collection of historic newspapers, is where I found some of the earliest newspaper articles about the St. Paul Winter Carnival. Here is a sample front page, this one from St. Paul Daily Globe in 1886.
Searching through the pages that mentioned the Carnival, I came across some fun/funny/strange/interesting articles. Here are some of my favorites.
This first one describes the many beautiful hats (toques) donned by ladies attending the St. Paul Winter Carnival in 1886. In these first Carnivals, it was fashionable to become a member of one (or more) of the many toboggan clubs, each which had its own uniform complete with colorful toque. The toboggan clubs tobogganed on the many enormous toboggan slides around the city, but were also social clubs for men, women, and children alike.
My favorite part of reading these old articles is the ridiculously flowery language of the newspaper reporters. For example, my favorite from this article: "With the feminine liking for something new in dress and the accompanying gift of beautifying whatever they touch, they have made a variety of neat, tasty, and bewitching headgear that quite captures the hearts of the gentlemen".
There is also a tendency in these articles to be free with assertions about what is socially proper, especially when it comes to women's behavior: "For to look beautiful in the eyes of man is a laudable ambition for any woman when it is done with becoming modesty". I wonder if the author was a man or a woman…
This next one captures this phenomenon nicely.
"Damn has been said to be the strongest word in the English language"! How journalism has changed.
And lastly, I'll leave you with this fine story, a reporter doing his damnest (!) to lay out the "facts" of why St. Paul, MN is indeed a goodly city.
I didn't want to include the entire article, as it is quite long, but I love love love the heading on this one. Here are some of the more promising/surprising of the 100 reasons listed:
"It has the electric light."
"It has the prettiest girls in the country."
"It has men of brains."
"It has honest aldermen."
"The moral tone is pure and virtue is protected."
"No class of foreigners predominate. All are American." (!)
"The people are liberal minded, and public sentiment is wholesome."
Ah yes, St. Paul is a goodly city!
Posted by Adrienne on November 29, 2012

During my quest to understand how cities can better embrace the winter season, I found that many cultures and communities survive those long winter months by gathering together and throwing themselves a party. Winter festivals in Northern Europe began with pagan-based rituals in the Middle Ages. While some still follow cultural traditions, many festivals today are commercial in nature. Some are large, attracting international crowds and generating a huge economic impact on the surrounding region; others are celebrated only by a small local community. Some festivals focus on the arts, while others have recreational competitions at their heart. Almost all festivals include some measure of music, food, drink, pageantry, beauty, and light. Each and every winter festival lends an air of community and festivity to an otherwise drab and lonely time of year.
Here are some of my favorites:
Up Helly Aa on Shetland Island, UK: Hundreds of people dressed as Vikings and carrying lighted torches form a procession through the darkened streets, singing Viking songs and following a Viking ship. After burning the ship in the harbor, they then spend the rest of the night singing, dancing, eating, and drinking. Everyone gets the next day off to recover.
Snow Light Path Festival(Yukiakarinomichi) in Otaru, Japan: This one looks particularly beautiful, celebrating the simple but breath-taking beauty of light and snow and ice. This historic city displays thousands of ice and snow lanterns on paths and streets – even floating in the canal – creating a "fantasy world after dark".
Rørosmartnan: In the World Heritage mining town of Røros, Norway, residents celebrate folk cultural traditions on the streets in February with a marketplace, concerts and dances, cultural crafts, storytelling and bonfires in backyards, and horse-drawn sleigh rides. This one sounds particularly fun to me. It just looks so simple and homey and all about having fun outside with your neighbors in winter – and people seem to dress up in a lot of fur. Be sure to check out more photos on the official website. And side note: check out the village's gorgeous building colors and green roofs in summer!
The last winter festival today is one of the weirder ones I came across…
Frozen Dead Guy Days: In the small mountain town of Nederland, Colorado, this crazy festival was inspired by the strange but true story of a Norwegian man ("Grandpa") who, when he died in 1989, was cryogenically frozen and shipped to Nederland, where he is still "cared for" (packed in dry ice) in a nearby shed. The festival consists of a series of rather creative competitions including coffin racing, polar plunging, frozen salmon tossing, a frozen t-shirt contest, snowy beach volleyball, and a Rocky Mountain oyster-eating contest. Supposedly some festival-goers even make a special visit to the shed each year to have a drink with Grandpa, (may he RIP).
Posted by Adrienne on November 25, 2012

Since I get most of my writing done at coffee shops, I can't resist writing a bit about them when I find a good one. Today I'm writing from a new (for me) coffee shop, Corner Coffee just north of downtown Minneapolis. It's located in Minneapolis' Warehouse District, a former industrial area listed on the National Register of Historic Places. The beautiful old brick warehouses, designed predominantly in the Chicago Commercial style, once functioned as wholesale and storage for milling and manufacturing in Minneapolis. It was closely tied to the nearby railroad network that connected Minneapolis to the rest of the country. Now these gorgeous 6-story structures house architecture firms, upscale condos, art studios, and nice restaurants. Corner Coffee is tucked into the first floor of one such building and offers a cozy and friendly atmosphere with lots of nooks in which to work, chat, or read. Today there's live music, an informal hootenanny with half a dozen musicians doing a decent rendition of "Take a Load Off Annie". I recommend it as an informal office-away-from-office, especially if you want to get away from the typical residential neighborhood coffee shops and see a beautiful example of adaptive reuse of a historic district.
© Copyright 2006 Adrienne Bockheim.