Posted by Adrienne on February 13, 2008

We came across a very sad article regarding Blue Moon. Apparently they are having trouble making ends meet because people will hog a table for hours at a time, sometimes without buying anything (known as "wi-fi vampires"). Owner Lisa Berg says writing a note asking people to be more considerate has not done anything, so they are trying to figure out how to stay afloat. Raise prices? No one likes that. Expand tables? Not sure where they would fit in her small cafe.
Raises a good question for cafe-goers. How long can we stay before we wear out our welcome? My rule of thumb is until my drink or food is gone. If I'm taking up a chair in their space, I should be paying for it. Especially if they have free wireless. Especially if it's busy. Now as to how long you can stretch out a drink…. that is debatable. I'm known to nurse my drinks from time to time. The fact remains that coffee shops are not extra offices to use for an entire day. Be considerate and remember that the only way your favorite coffee shop will stay open is if it can pay its bills – and that's where you can help.
Posted by Adrienne on January 21, 2008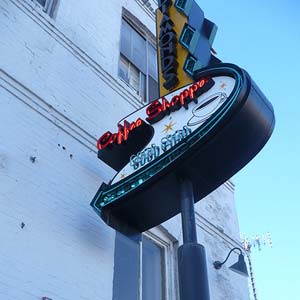 Hello everyone! Did you think I'd abandoned my quest? I'm close to wrapping up my holiday break so I thought I'd pump out a quick review before I am lost in another semester. I miss writing while I'm in school but I also love being in school, so I win either way.
Most of my past reviews have featured coffee shops in south Minneapolis because they are in almost every neighborhood and they are easy to find. But part of my reason for this blog to explore other parts of the city, so I recently wandered up to the industrially mysterious Northeast Minneapolis to check out what sort of community coffee shops serve this side of the river. Forgive my lack of photos of the neighborhood, but I happened to visit on the coldest day of the year so far.
Posted by justinph on September 16, 2007

Today I spent some time working on some projects over at Common Roots Cafe. It is a heck of a place, likable for many reasons, which Sarah summarizes very well over at Living in 55404:
Super eco-friendly
Bright, airy atmosphere, but not so bright that you can't see your laptop screen
Delicious sandwiches, salads, soups, bagels, and baked goods made from local ingredients
The perfect range of beverages for a cafe, including fresh coffee, juice, tea, beer, and wine
Great wireless signal
Pretty outdoor patio seating with lights and vines
I couldn't agree more, and I'll be back there again.
Posted by Justin and Adrienne on August 19, 2007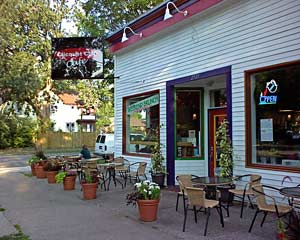 We are very excited about this next coffee shop. We discovered it in our new neighborhood shortly before transferring here to Seward, and it has since become our new hangout. And we're not the only ones. It seems that every time we make our way to Clicquot Club Cafe (pronounced "KLEE – ko", named after a historic soft drink company now defunct) the place is packed. Is it the delicious coffee? Or is it the gigantic mouth-watering menu? Could it be the spacious outdoor seating, including a pleasant courtyard stocked with lounge chairs surrounding a bubbling fountain? Take your pick.
Continue reading full review →
Posted by Adrienne on June 25, 2007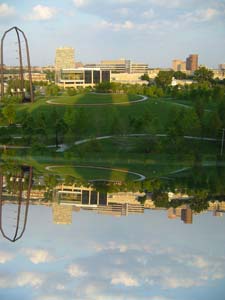 A few weeks ago, I wandered around by the north side of downtown Minneapolis. Like many residents, I really enjoy the historic district in the area by the river. I admired the beautiful new buildings going up, and I loved visiting the Mill City Museum. It makes me happy that new creative things are happening in a locality that breathes history and revitalization. The Guthrie Theater and restaurants such as Spoonriver add new art and culture. A summer farmer's market and the lovely bike paths along the river bring much-needed foot traffic. One thing lacking, however, is green space, especially along the streetscape. One step in counter-acting this phenomenon was the recent building of Gold Medal Park, just east of the Guthrie.
Posted by Adrienne on June 24, 2007

Sorry for the silence! I have spent the last month or so packing, moving, and unpacking, as we moved from the Lyn-Lake area over to the Seward neighborhood. I am planning more reviews (including one lovely new coffee shop here in Seward) that will hopefully materialize shortly. I'm also enjoying the summer weather too much to find myself cooped up inside a cafe…
My next post will be my reaction to the new downtown park: Gold Medal Park. I know it has nothing to do with coffee, but it does have to do with my interest in green space, cities, and community. Seeing as I will be starting my education in landscape architecture this August, I thought I'd try my hand at critiquing a local project.
If you have not seen the park yet please go. I'd like to hear other opinions too.
Posted by Adrienne on May 3, 2007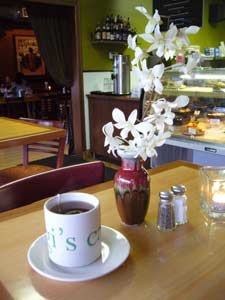 Now that the weather is acceptable for sitting outside, my mind, and apparently everyone else's, turns to finding fabulous outdoor seating whenever I go out. How can we not thirst for sun after six months of winter? In my neighborhood there are many options but a favorite for casual streetside coffee-sipping might be Gigi's Cafe in south Minneapolis.
Posted by Adrienne on April 23, 2007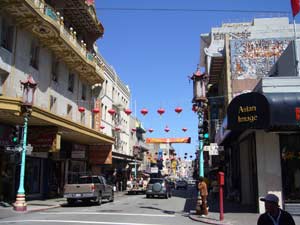 Success! Our trip to San Francisco was absolutely fabulous. Aside from seeing all the touristy scenes in the city (clam chowder at Fisherman's Wharf, Alcatrez, Union Square shopping, Chinatown, Golden Gate Bridge, and riding the cable cars), I did get to check out a cafe or two along the way.
© Copyright 2006 Adrienne Bockheim.